Traditionally, dining rooms have played a foundational role in shaping a home's energy and flow. Although the style and decor of dining rooms have changed dramatically throughout history, a modern motif can reinvigorate nearly any dining space.
Whether you're looking to update your dining room or commit to a full overhaul, here's how to make a traditional dining room more modern.
Swap Out Your Dining Table with Something More Contemporary
Generally, the dining table is the focal point of any dining room. While other pieces of dining room furniture and decor add texture and color, the dining table is where you and yours will ultimately sit down to break bread and converse. As a result, dining tables usually "set the stage" for the mood and ambiance you're trying to convey — so be sure to choose yours carefully.
To make a traditional dining room more modern, opt for a sleek dining table from contemporary tastemakers like Modloft. Defined by minimalism, the company's low-profile dining tables make for an elegant and functional addition to any dining space. In addition, the broad range of available dining table colors ensures compatibility with a variety of existing furniture.
If you're not particularly enthused about buying a new dining table, consider repainting your existing table. You might be surprised at how effectively a fresh coat of paint or stain can breathe new life into a table you've owned for decades.
To capture that modern look, try repainting your existing table with light shades of white and grey. With the right supplies and know-how, you can imbue nearly any dining table with new color while preserving the traditional beauty of wood grains and ornate carvings.
Streamline Your Dining Room with Sleek, Minimalistic Dining Chairs
Aside from dining tables, dining chairs play a formative role in defining a dining room's style. Although they're usually smaller than dining tables, dining chairs contribute significantly to the feel of interior space due to frequency and repetition.
If you're wondering how to make a traditional dining room more modern, updating your dining chairs is a great place to start. Most traditional dining chairs feature luxurious carved wood designs, which —while attractive — can feel out of place in a modern dining space. To accurately capture that contemporary look, choose dining chairs with sleek, minimalistic designs that aren't built with excessive curvature and bends.
However, if you're not keen about purchasing new chairs, that's okay, too. By reupholstering or repainting your existing dining chairs, you can bring a touch of modernity into your space without breaking the bank. If you decide to go the DIY route, just make sure to prioritize simplistic fabric designs and colors over their intricate and ornate counterparts. Embracing minimalism and neutrality will go a long way toward making a traditional dining room more modern.
Embrace Flexibility over Congruency
While adorning your dining space with matching furniture items and decor can make for a striking environment, this motif is more reminiscent of traditional design sensibilities rather than their modern equivalents.
That's because traditional spaces emphasize conservative and monochromatic stylings, whereas modern design embraces an eclectic palette and a broader range of textures. While a dining room with color-coded furniture and uniform decor can still be modern, flexibility is an integral component of modern interior design.
With these fundamentals in mind, here's how to make a traditional dining room more modern:
Increase texture by choosing furniture made with different types of glass, metal, and wood
Up the contrast by introducing new colors and patterns
Mix-and-match existing traditional furniture with modern furniture to achieve an eye-pleasing balance
Replace heavily-patterned and ornate decor such as rugs, chandeliers, and curtains with cleaner, more simplistic items
Remove wallpapers and excessive wall decor to reenergize the dining space
If you're worried that making your traditional dining room more modern means ditching nearly all of your existing furniture, don't worry! Thankfully, the so-called flexibility of modern design also supports the integration of traditional design elements such as elaborate lighting fixtures and high-back dining chairs. You might have to get a little creative to achieve harmony between what's new and old, but plenty of interior designers have already proven that a blend of traditional and modern decor is achievable.
Invite in Natural Light and Allow Your Dining Space to Breathe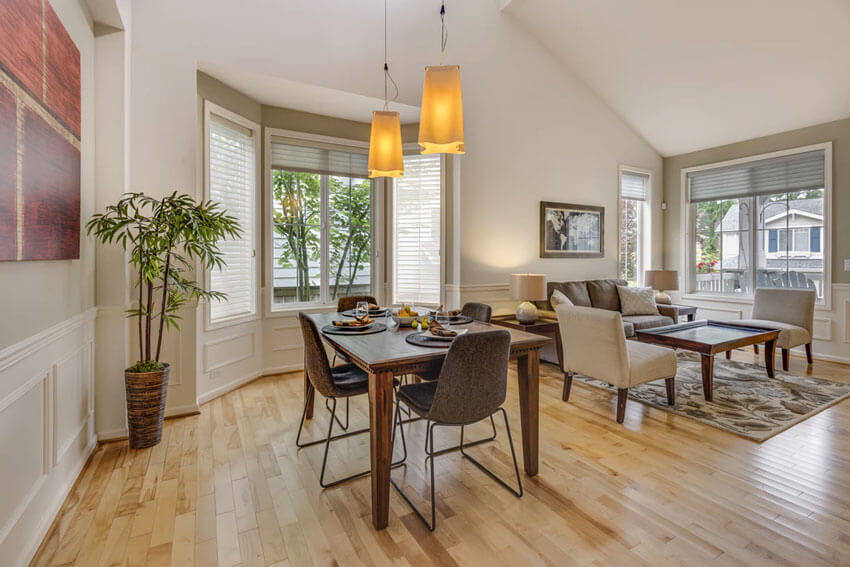 In terms of space and lighting, the design staples of traditional dining rooms are very different from their modern counterparts.
Traditional dining rooms usually feature many ancillary cabinets and drawers while relying on lamps and light fixtures for brightness. On the other hand, modern spaces feature a leaner, more functional design philosophy that maximizes real estate and emphasizes natural light.
Due to this contrast, playing with space and lighting is one of the best ways to make your traditional dining room more modern. Here are a few ways to brighten up your dining room and reduce visual/spatial clutter:
Lighten the room by painting the walls white or introducing brighter colors
Open curtains and remove blinds to increase natural light
Reduce visual clutter by relocating dinnerware and removing dining cabinets
Remove or replace large light fixtures with smaller ones
Replace heavy, ornate dining chairs with thinner, lower-profile chairs
After implementing some of these tips, you and your guests will likely notice that your dining room feels more "open" and accessible — two hallmarks of modern interior design. As an added bonus, less clutter also makes cleaning your dining space much easier, which is a win for form and function in our book.
Order Premium Furniture from Top Brands at SawyerTwain
Are you looking to make your traditional dining room more modern? We've got you covered. At SawyerTwain, we carry a diverse selection of high-quality furniture and game tables from esteemed brands like Modloft, American Heritage Billiards, and RS Barcelona.
Shop with us today and get free curbside delivery on hundreds of items at SawyerTwain!