The pool table can represent many things.
One might think back to their youth, playing games with the family around the holidays. One might think back to their college days playing with a group of friends at the pool hall with a drink in hand. To some it might be representative of finding success and rewarding themselves with a new gift. But no matter what way you look at it, a pool table is always going to be representative of fun.
We want to help you in defining what a pool table means to you, and that means getting one into your space!
FIRST TIME POOL TABLE BUYER?
Welcome to the club! Here at Sawyer Twain we take pride in providing the highest quality pool tables for our customers at a competitive price.
We know a pool table is a large purchase that requires a bit of research, so we'd like to help you along in this very important process, so that you feel comfortable and confident in your decision. Below you will find the resources you need to make an informed decision on your pool table purchase. Once the decision has been made, the family fun can ensue!
Why should I shop with Sawyer Twain?
At Sawyer Twain, we make your life a little easier with free shipping store-wide. If you live in the continental USA, you automatically get free shipping on all items. Our easy and transparent shipping process means you know exactly when your order is accepted, packaged, and on its way to you.
While we're confident you're going to love your purchase from us, we want you to know that your purchase is risk-free. Just send us an email at sales@sawyertwain.com with your name, order number, and reason for return within 10 days of your purchase to start the return process. Need more info? Check out our shipping policies.
What size pool table should I get?
We have an entire guide for that! However, for a quick answer, use the table below.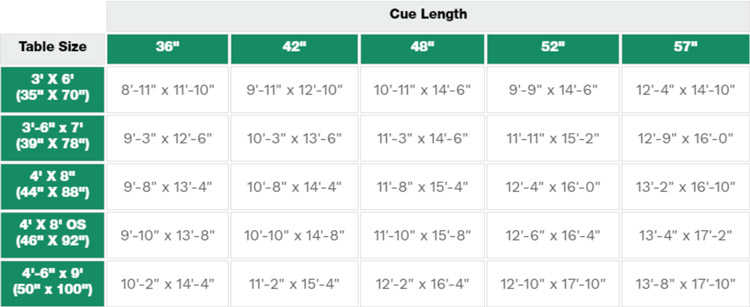 What is slate and why do I want it?
Slate is a durable, fine-grained metamorphic rock. That means mud and shale in the earth endure high pressures and elevated temperatures. These pressures and temperatures cause the minerals to crystallize into slate. This rock is a popular choice not only for pool tables but also roofing and other home construction projects. In pool tables, it provides a smooth, level playing area.
Therefore, when you are purchasing a slate pool table, you are getting the highest quality material to ensure a sturdy and smooth playfield. This will ensure that your game is not thrown off, and you are having the best billiards experience you can.
What if I want to get more out of my pool table?
Lucky for you, at Sawyer Twain we offer convertible table top options for most of the tables in our store. Conversion top options include dining tops, table tennis tops, and more.
All Doc & Holliday tables come with the option of a convertible dining top so that you can transform your dining space into a game room with ease. Similarly, most Plank & Hide Co & Nixon Billiards tables also offer this option so that you can get the most out of your new purchase.
Take it one step further and turn your pool table into a ping pong table for the ultimate game room setup. Table tennis conversion tops are available on most tables across Sawyer Twain.
More Burning Questions?
Visit our FAQ page to find the answers to questions related to table size, shipping, installation, and & more!
Our customer service representatives are available Monday through Friday from 9am to 5pm MST. If you'd like to speak to a customer service representative please reach out to us at 800-503-0531 or sales@sawyertwain.com.
DOC & HOLLIDAY POOL TABLES
All Doc & Holliday pool tables are handmade in the USA. Constructed with your choice of solid Maple, Oak, Cherry, Pine or Hardwood - Doc & Holliday pool tables are some of the sturdiest tables in the game. This premium line of furniture includes your choice of Championship or Simonis felt for ultimate gameplay. All Doc & Holliday pool tables are offered in 7ft, 8ft, and 9ft options. Additionally, each is made with a 3 piece 1″ thick backed slate, so you have the most authentic billiards experience possible.
Check out the various wood finishes of Doc & Holliday here!
Learn more about Doc & Holliday at their website!
PLANK & HIDE CO. POOL TABLES
Browse our collection of Plank & Hide Co. pool tables featuring the best in rustic, contemporary, and industrial pool tables. From tables like the best-selling Isaac & Otis rustic models and the VOX industrial pool table - Plank & Hide is sure to satisfy all tastes. To compliment the stunning tables, we offer matching cue racks for most finishes. Similarly, select models also feature corresponding bench models! Plank & Hide Co. tables are all available in 8ft models, with a handful also available in 7ft for tighter quarters. Feel confident in the playability of your purchase of a Plank & hide Co. pool table as all tables include a slate playfield.
Check out the various wood finishes of Plank & Hide here!
NIXON BILLIARDS POOL TABLES
When you shop Nixon Billiards, you are shopping for a visually stunning piece at an affordable price. Nixon tables are expertly constructed of solid wood and finished with MFD veneer. With their artisan designs, Nixon Billiard products are sure to be the centerpiece of your room and the starter of many new conversations in your space. All Nixon Billiards pool tables have a slate play surface and are all available in 8ft options, with a select few also available in 7ft.
Check out the various wood finishes of Nixon Billiards here!
Learn more about Nixon products at NixonBilliards.com
BILLIARDS ACCESSORIES
Once you have your pool table, there are add-ons you will need to ensure your purchase reaches its full potential! We have just what you need with our various ball sets, pool cues, cue racks, accessory kits, benches, and more! Customize your game room any way you'd like with matching cue racks and benches from Plank & Hide, unique ball sets from Aramith, and much more!
ORDER NOW
Get started by checking out our featured selection of pool tables for sale at our Sawyer Twain online store. If you need help selecting the best pool table for your game room, don't hesitate to talk to us at 800-503-0531. Order now. Enjoy free shipping for all orders.