You're looking around your game room, trying to picture your dream pool table in it. Then it comes to you. How do you know how much space is required for a pool table? What is the average pool table size, anyway?
Don't worry, because here at Sawyer Twain, we live and breathe pool tables. We're dedicated to helping you build your perfect billiards space, whether that's with modern pool tables or game room furniture. Let's get started.
Determining the Right Pool Table Size for Your Room
1. Figure Out Your Pool Cue Length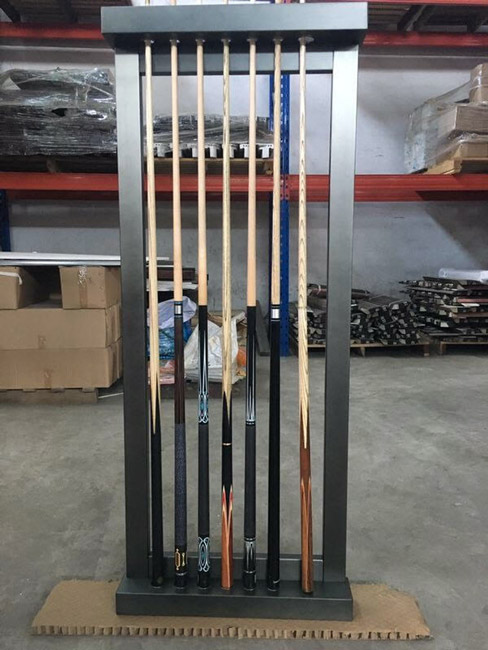 The thing some people forget to take into account when choosing a pool table is the length of their cue stick. You can't play if the end of your cue is constantly banging into walls or other furniture.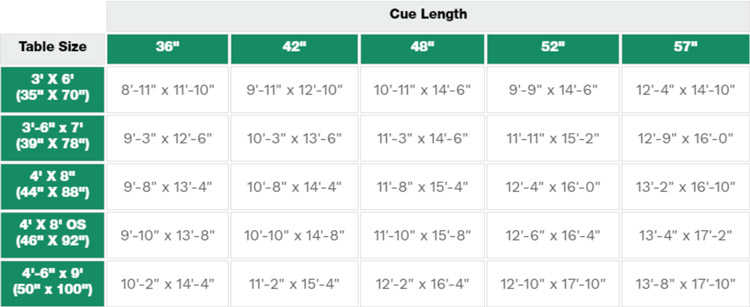 You're probably fine to go with the standard length of 57"–58". Of course, the longer the cue, the more space you'll need. If you want to stay flexible, a good rule of thumb is to use these calculations to determine how big your playable area needs to be:
Playable area length = table playing surface length + (cue length x 2)
Playable area width = table playing surface width + (cue length x 2)
When figuring out the ideal pool table size for the room, say you want to purchase a 7' table (the average pool table size) and use a 57" cue. Your math would look like this:
Length = 78" + (57" x 2) = 192"
Width = 39" + (57" x 2) = 152"
So the space required for your pool table needs to be 152" x 192", or 12'3" x 16". You can change the playing surface length and width for your desired table size. For example, if your goal is to play a family pool tournament, use 8' measurements instead, as those are generally considered "tournament size" tables.
2. Plan Ahead
Rocky Slate Pool Table in Charcoal w/Premium Billiard Accessories
Once you figure out the minimum spatial dimensions for your table, it's time to map out the room to make sure it will fit. The coolest man caves or family game spaces are the ones that balance furniture with function, so don't leave anything to chance.
Double-checking the right pool table size for your room is easy — all you need is some masking or painter's tape. Using the tape, mark on the floor where the corners of the table will be. Then mimic your pool-playing stance over the area and see if you're going to have enough room.
3. Don't Forget the Accessories
Aramith Crown Standard Pool Table Premium Billiard Accessory Kit
Figuring out the space required for the pool table itself is only half the battle. Don't forget about where you'll store your pool table accessories kits, including cues, pool balls, chalk, table covers, and more.
Make sure you account for where the kits and accessories will go as you're determining your table size. You'd be surprised how often those "little" parts add up to a lot of space!
Explore Sawyer Twain's Pool Tables
Once you've nailed down the right pool table size for your room, explore our collection of brand-name tables, cue racks, accessories, and furniture. Create your dream game room with Sawyer Twain, and receive free shipping on select items!