Man caves provide the perfect spaces for guilt-free recreation and relaxation. They're also visually flexible: while game tables or sports decor can feel out of place in other areas of a house, they're often right at home in a man cave.
That said, not all man caves are created equally. The coolest man caves visibly embody a man's pleasures, but as interior spaces, they also need to be functional and easy to navigate. So, whether you're conceptualizing your first-ever man cave or planning a renovation, here are some man cave creation tips you should keep in mind.
Find a Style or Theme
Choosing a central theme or concept for your man cave design will help ensure that your space feels cohesive and welcoming. In contrast, man caves without established themes can feel cluttered and unfocused.
If you haven't decided on a theme, consider the following suggestions. With some added self-expression, they can help you craft the coolest man cave on the block.
Rustic Cabin: a traditional rugged space with all-wooden furniture, hardwood floors, and faux-fur rugs
Sports Bar: an electrifying game space brought to life by contemporary furniture, bar stools, neon signs, overhead lighting, and sports decor
Retro: capture the aesthetics and vibes of days gone by with nostalgic decor, repurposed restaurant signage, antiques, and more
Pick a Central Focus
The focus of your man cave is ultimately determined by its furnishings and how they're arranged. For instance, if your man cave features a large pool table at the center, your guests will naturally gravitate towards playing billiards. As a result, you can promote certain activities or hobbies and shift the focus of your man cave through deliberate design.
Not sure where to begin? Here are several of the most popular and coolest man cave ideas to help jump-start your creativity:
Sports Room
Whether you're partial to football or hockey, a large accommodating couch is the undisputed champion of any sports-centric man cave design. Throw in a widescreen wall-mounted TV, and you'll have the ideal game-day setup. Your side areas could include a kitchenette and snack station, while sports-related decor (sports posters, team banners, jerseys, etc.) will help establish a competitive atmosphere.
Bar & Arcade
Bring home the authentic arcade experience by lining your walls with arcade cabinets and setting up game tables in the aisles. Then, dedicate an adjacent wall to a bar area with bar stools, refrigeration unit(s), wine racks, etc. For a truly retro-feel, brighten up the walls with neon signs and illuminated posters.
Home Theatre
To create one of the coolest man caves, surround a wall-mounted TV or projector screen with rows of comfortable at-home movie seats. Devote a side area to serving up refreshments, popcorn, and more (thankfully, most pre-packaged movie snacks don't require refrigeration, which can help you cut costs). Avoid overly bright lights and consider a dimmer switch to create the perfect movie-watching atmosphere.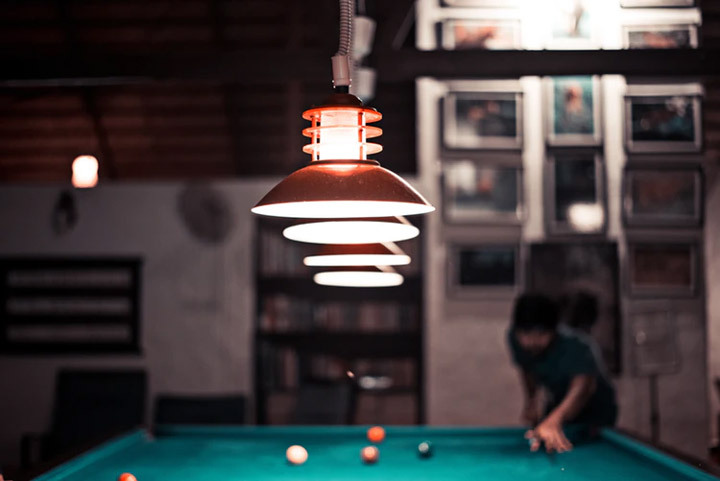 Set Up the Perfect Game Table
Even if billiards or foosball aren't the focal points of your man cave, a high-quality game table has a dignified presence that makes any space more inviting. A game table can also liven up a man cave design by keeping your guests entertained during commercial or bathroom breaks.
Pool Tables
The coolest man caves frequently feature stylish and eye-catching pool tables by brands like Plank & Hide Co or American Heritage Billiards. However, pool tables take up a lot of space and require sizeable space margins for optimal play. As a result, pool tables are best-suited for mid-to-larger sized man caves, unless they're the central focus of the room.
Foosball Tables
With foosball tables, you can bring home fast-paced competitive play without needing to satisfy demanding size requirements. A foosball table's smaller dimensions are perfect for space-restrictive man caves or for filling up unused floor space. You won't have to settle for cheap plastic tables, either: today's premium foosball tables are made of high-quality woods and metals.
Create the Coolest Man Cave With SawyerTwain
Whether you're dreaming up your ideal space or finalizing your man cave's design, SawyerTwain is your online destination for high-quality game tables and furniture. With dozens of products from top brands, our selection is sure to have something for everyone.
Explore our diverse inventory today and get free shipping on hundreds of items at SawyerTwain!