Choosing Your Billiard Table
1. What is the standard pool table size?
While there are multiple size pool tables, only two are recognized for tournament play by the World Pool-Billiard Association: the 9x4.5ft and the 8x4ft options. The 8-foot option is the most common for home use, and the 9-foot option is considered regulation.
2. How do I choose the best pool table size for my space?
We have an entire guide for that! However, for a quick answer, use the table below.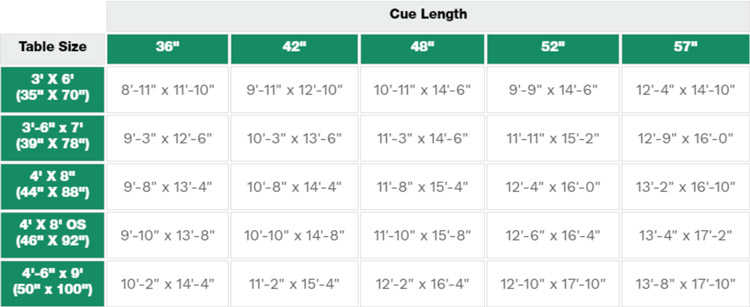 3. What are the room size requirements for different game tables?
You can use a simple math equation to figure out the playable area length and width.
Playable area length = table playing surface length + (cue length x 2)
Playable area width = table playing surface width + (cue length x 2)
So, if you want to purchase an 8' table and use a standard 57" cue, your math would look like this:
Length = 88" + (57" x 2) = 202"
Width = 44" + (57" x 2) = 158"
The space required for your pool table needs to be 158" x 202", or 13'1" x 16'8". This is the average size of a small living room.
4. How can I ensure my new game table will fit in my room?
Measure very carefully and plan ahead. Figure out how big your room is and how much playable space you have. Choose a table that will allow you to have at least six inches of room for your backswing.
Using painter's tape, mark the floor where your pool table will live. Then practice your pool-playing stance over the edges to make sure you'll have enough room.
5. How can I customize my pool table?
Most of our tables come with your choice of color for the premium Championship felt. Other ways to customize your pool table include the addition of a dining top, dining benches, or convertible tennis top.
6. What accessories should I get when I order my new game table?
We have a wide variety of accessories that will complement any pool table. We personally love wall racks to hold your cues and a pool ball set that reflects your unique style. Also, consider a pool table cover to help keep dust off the playing area. Don't forget your cue rest, chalk, and triangle to set up for your first break.
7. What pool table brands would you recommend?
At Sawyer Twain, we carry some of the best pool table brands for your home, including sleek and modern options from Doc & Holliday, elegant show-stoppers from Plank & Hide, All-American game tables from Brunswick, and more!
Order Questions
1. How do I contact Sawyer Twain?
You can reach us via our contact page, send us an email at sales@sawyertwain.com, or call us at (844) 278-5350. We're happy to hear from you!
2. How will I receive my order?
That will depend slightly on what you ordered; please see the item page or your email receipt for specifics. In general, however, the freight company will contact you with a delivery date and time window. Most orders are received within seven business days, but it can take up to 14.
However, nationwide shipping delays may occur which could lead to unpredictable lead times.
Please see our Shipping & Policies page for more information.
3. Is my item insured during the delivery process?
Yes! All freight items are shipped fully insured. It is also the customer's responsibility to closely inspect all items for damage and report them on the Proof of Delivery. Please see our Shipping & Policies page for more information.
4. What is white glove installation?
Your product ships directly to certified billiards technicians in your area. A representative with Sawyer Twain will reach out to you to begin to coordinate the delivery and professional installation of your pool table after production has been completed and your items are ready to ship. From purchase to installation, the process typically takes two-four weeks, dependending on location and installer lead time. This is subject to change during the holiday season and other busy periods.
5. What is pro installation?
If you elect to have professional installation, your item will be delivered via curbside freight. Following the delivery, an installer will come to your home to complete the setup. Upon arrival, the installers will unbox everything and ask you which room you would like your new table to be set up in. Please note, all contact information is shared while your item is in transit.
6. Do you ship outside of the US?
We currently ship to all 48 contiguous states. Residents of Alaska, Hawaii, and Canada will need to call (844) 278-5350 for more information.
7. How do I return items?
All returns must be accompanied by a return authorization code (RAC). Items returned without a RAC will be refused and no refund will be given. To receive your RAC, send an email to sales@sawyertwain.com with your name, order number, and reason for return.
You must request your return within 10 days of receiving your order. All return requests are processed during standard business hours M–F, 9am–5pm PST.
If your item came in a box, it must be returned with the original packaging intact and in an undamaged condition. You cannot return an item because of shipping damage; rather, we will fix it or replace it.
Returns must be picked up and in transit no more than 14 days from the date of delivery and must include all instructions, pieces, etc. On approved returns, we offer a complete refund less all shipping costs and a fifteen percent restocking and processing fee.
Custom, made-to-order products and products with home installation are not eligible for return or refund, and these sales are considered final once installation has commenced. Please note that custom pool table cloth/felt sales are final, as each cloth is custom-cut and sold by the yard. It is your responsibility to ensure that you are ordering the correct number of yards to felt your pool table.
General Questions
1. What is a convertible top pool table?
A convertible top pool table can change from a pool table to a dining or tennis ball table. There is a foam layer that cushions the other tops so they don't damage your felt when you convert the table.
2. Does Sawyer Twain offer financing options?
Yes! We're delighted to partner with Klarna to offer our customers financing options. Just select "Klarna" at checkout to spread the cost of your purchase over time. After a quick, two-step application process for approval, you can receive reminders and adjust your payment preferences via the Klarna app. Please see our Financing Options page for complete information.
3. What is slate?
Slate is a durable, fine-grained metamorphic rock. That means mud and shale in the earth endure high pressures and elevated temperatures. These pressures and temperatures cause the minerals to crystallize into slate.
This rock is a popular choice not only for pool tables but also roofing and other home construction projects. In pool tables, it provides a smooth, level playing area.
4. How tall is a pool table?
The average pool table is between 29 ¼ inches and 31 inches as measured from the floor to the table bed (playable area).