Having a game room makes it easy and fun to host entertaining games for family and friends. But, if you have a small space, enjoying your favorite activities together can be a challenge. You don't need to have an extra-large room to have fun. It only takes a bit of smart creativity to transform that small space into a welcoming game room that you can be proud of.
From the experts at SawyerTwain, here are some game room ideas for small spaces:
Buy Multi-Game Tables
Multi-game tables are a fabulous game room idea for small spaces. Some of these tables feature different tops that can be switched out to play different games. For instance, if you want to add table tennis to your game room options but lack the space needed for a complete table, opt for a convertible pool table table tennis top that easily fits on top of your existing billiard table.
When it comes to game room ideas for small spaces, it's important to center the design of your small space on your favorite activities. Indoor table games are a classic and timeless source of entertainment, and choosing a table that allows for multiple gameplays guarantees maximum fun with a minimal footprint.
Choose Multi-Use Furniture
Every game room's storage capabilities are dependent on the proper game room furniture. For small spaces, consider efficient ways to use the available space. For pool table cues, consider having a wall mount rack. A media cabinet can double as an extra surface and a functional storage space.
Adding multi-use furniture can also save you lots of space. Another great game room idea for small spaces is adding a pool table or a shuffleboard table with drawers that offer hidden storage space for your cues, balls, triangles, and other accessories. For extra functionality, consider a convertible dining pool table or other convertible indoor table game. These pieces come with a custom, high-quality tabletop, allowing you to transform the atmosphere of your game room for more formal events.
Don't Be Afraid to Downsize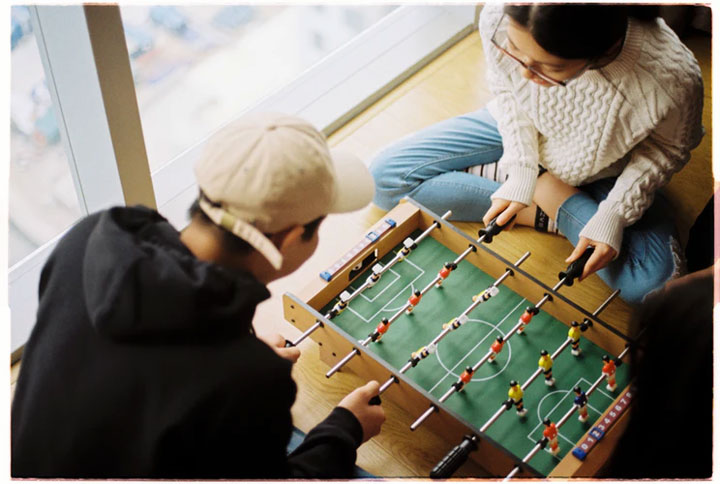 Fun doesn't have to mean supersized. If you're short on space but you really want an indoor table game, consider a more petite option like foosball. Significantly smaller and more lightweight than a shuffleboard or billiards table, games like foosball still offer hours of endless friendly competition.
Don't have enough room for a full game room bar? Consider a floating countertop ledge with game room bar stools that can be pulled out from beneath. This game room idea for small spaces will provide sufficient sitting space to chat and have a drink or sit and watch as you play with family and friends.
Include Board-Games and Video Games for Hours of Fun
Small space may limit the number of indoor table games that you can have in your game room. So, include other engaging games like board games and video games. While you can always include table games like air hockey or foosball, board games offer an easy way to stock your game room for hours of fun. All you need is a large table space to play on and some sitting space to accommodate players.
Choose the Correct Lighting and Decor
The correct lighting can set the tone of your small game room. You don't want to create a dark gaming room that causes strain on the eyes. Too much light may also be uncomfortable for you and your guests. Opt for soft and warm lighting to give your small game room a sophisticated gaming atmosphere. If your game room contains windows, take advantage of the natural light by avoiding heavy or dark curtains. Choose recessed, ambient lighting with a dimmer switch, so you can effortlessly adjust the mood based on your needs. Another game room idea for small spaces is to utilize mirrors. Small mirrors interspersed with other wall decor reflect light, creating the illusion of a larger space.
Buy Quality Game Room Furniture
Game rooms are meant to offer the perfect space for entertaining family and friends. Create fun, memorable moments by offering your guests a premium gaming experience. Let us inspire game room ideas for your small space, and shop the high-end game room tables and furniture at SawyerTwain today. Contact us now or visit our shipping & policies page to learn more about delivery.