A convertible pool dining table is a highly versatile addition to any home. With the ability to seamlessly transition from a pool table to a dining surface, a convertible table instantly increases a room's function and flexibility.
However, these space-saving game room tables aren't always the better option when compared to their non-convertible counterparts. While convenient, the transformable nature of convertible pool tables comes with some notable drawbacks. Depending on your space, you may be able to overlook them.
The Advantages
The most obvious advantage of a convertible pool dining table is its transformable design. Because a convertible dining pool table is essentially two pieces of furniture in one, it can be a great way to save space in smaller homes and residences.
A dining pool table combination is also aesthetically flexible. As fun as they are, a game table's presence can immediately designate a room as "recreational," which isn't always preferable. Thankfully, in instances where a dignified atmosphere is more appropriate, a convertible pool table can transform to support a luncheon or a romantic dinner without compromise.
You might also consider a convertible pool dining table if you have children or pets. The average billiard table is expensive and durable, but also vulnerable to damage from misuse and abuse. Over time, tears in a pool table's cloth, dents in the wood, and other forms of inflicted damage can render a pool table unplayable.
However, by purchasing a combination dining pool table, you can protect your billiard table by covering it and hiding its accessories in plain sight. As a result, children and pets will be less incentivized and less likely to damage it.
The Disadvantages
While a convertible pool dining table is a great way to boost space conservation in your home, these transformable tables do come with some apparent downsides. While not every table will suffer from the same cons, understanding them will likely help you decide whether or not a dining pool table combination is right for you.
The main caveat of convertible pool tables is a byproduct of their transformable design. In order to be convertible, many tables eschew standard billiard table features and specifications in favor of compact, form-fitting alternatives. As a result, some convertible dining pool tables might not offer a regulatory-compliant billiards experience.
That said, some pool table manufacturers are dedicated to offering the best of both worlds in one package. If you're looking for a convertible pool dining table that can provide a genuine billiards experience, check to see if the table meets the standards of the BCA (Billiard Congress of America). It's also worth evaluating the table's dimensions to ensure that they meet your expectations; sometimes, dining pool combination tables can be smaller than traditional billiard tables or irregularly sized.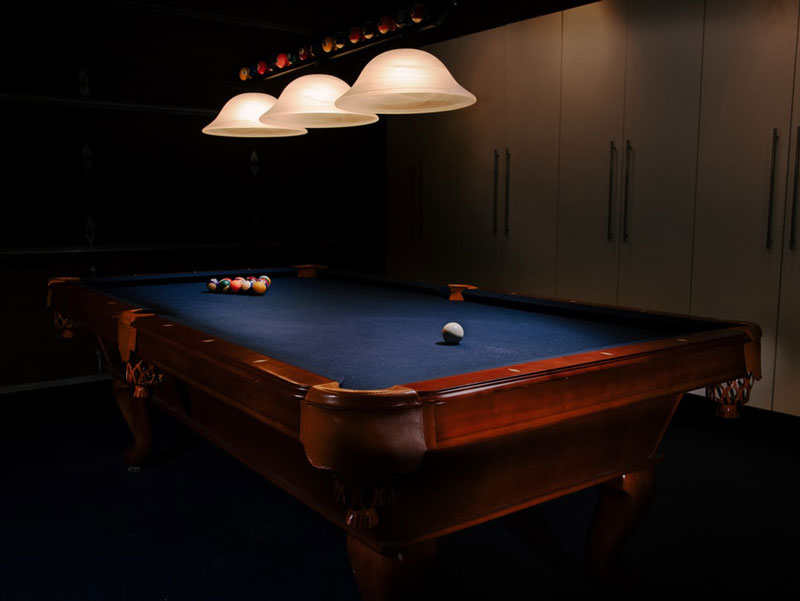 What to Look For
All pool tables — whether convertible or not — are made of varying materials, many of which can either positively or negatively influence the quality of play. As a result, it's essential to scrutinize a pool table's build quality before putting your money on the line. After all, even the sleekest convertible pool dining table isn't worth much if it breaks down after only a year or two of use.
Slate Playing Surface
A pool table's surface is one of its most formative components. The most accurate pool table surfaces are typically made of 1-inch slate, while cheaper, less precise table surfaces are made with materials like wood and fiberboard.
While it might be tempting to settle for a table made with less expensive materials, a high-quality transformable table is worth the investment. Consider that even a ¼" reduction in a table's slate surface (from 1" to ¾") can reduce the accuracy of play.
Hardwood Construction
The most durable pool tables are made with rugged hardwood, and convertible pool dining tables are no exception. Because convertible tables are especially susceptible to wear due to their transformable nature, investing in a hardwood table is particularly advisable.
Quality Rails
The rails of convertible pool tables often double as supports for the table's dining top, so a transformable table's rails can literally make-or-break it. If the rails are made from poor quality materials other than hardwood, they could eventually compress and crack under the pressure of the dining surface.
Browse Convertible Pool Dining Tables from Top Brands
At SawyerTwain, our broad selection of dining pool combination tables is sure to excite friends and family alike. Shop with us today and get free shipping on hundreds of items.