Whether you're planning the family room of your dreams or you're just ready to revamp a tired space, decorating a game room can feel overwhelming. What if your room is small? What if it's large and undefined? What if it's a multi-purpose room? Following a one-size-fits-all approach to game room design results in boring spaces that don't feel authentic or natural. Instead, use these 4 game room decor ideas as a guide for designing a game room that is custom-tailored to your needs and style.
1. Choose Games to Fit Your Space
You might love the idea of owning a regulation-size shuffleboard table, but if you need man cave ideas for a small room or game room decor ideas for your dining room, a 22' long shuffleboard table might just not be in the cards. Instead of bemoaning the space you don't have, strategically choose game tables that are perfect for the space you do have. With so many different sizes of shuffleboard tables for sale, including some as compact as 9', you're sure to find a suitable size for your room of choice. Plus, many tables, both shuffleboard and billiards, are available with an optional dining top cover that allows for greater versatility and functionality—perfect for transitioning from day time fun to night time dinner.
2. Make Furniture Do Double Duty
Having space for family and friends to sit and relax is a crucial element of any well-designed game room, but choosing the perfect seating isn't always straightforward. Get more out of your seating by choosing game room furniture that can serve dual functions. For example, a well-placed, cushioned bench can house billiard accessories while also serving as a seat for out-of-turn players or spectators. This game room decor idea is also suitable for larger rooms—choose a home bar with cabinets underneath or ottomans with built-in storage.
3. Use Lighting Strategically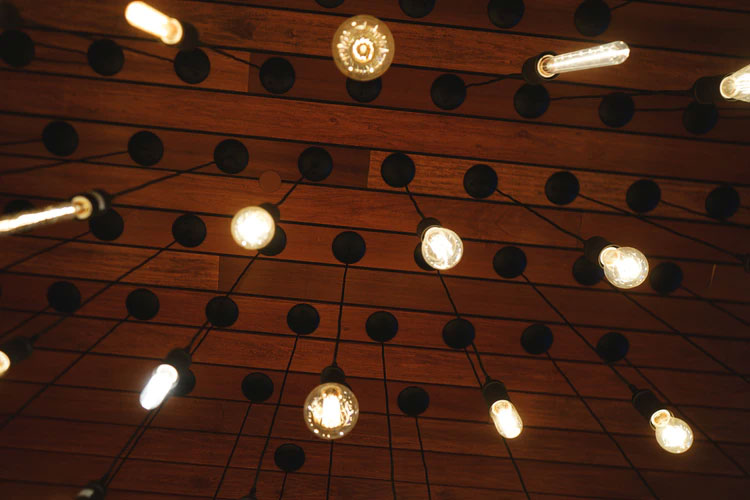 When it comes to ambiance, the role of lighting cannot be overstated. Natural light is king, so if your room has windows, avoid dark curtains or blinds and consider adding a mirrored bar to enhance the available daylight. If you're saddled with a windowless room, opt for recessed, dimmable lighting. The dimmer switch allows you to instantly customize the light levels to your needs while recessed bulbs offer a softer, more subtle look. If your idea of game room decor is all about character, show your style with funky pieces like vintage lamp shades or light-up signage.
4. Choose a Subtle Theme
Game rooms need a theme in order to feel cohesive, but if you're looking for game room or man cave ideas for a small room, you should be cautious of overwhelming the space with an overly gaudy or niche theme. Instead, settle on a central design element, like a particular wood stain, metal, or even glass. This game room decor idea allows you to put together a space that feels unified without being matchy-matchy. Hone in on your preferred theme, whether it's rustic, modern, or industrial. Whatever your design preference, don't forget to add a pool table that complements your aesthetic!
Dream Up Your Game Room With SawyerTwain
If you need help choosing the perfect game table or game room furniture for your space, don't hesitate to reach out to our team of experts. We carry the finest tables from the best brands in the industry, and we pride ourselves on our top-notch customer service. Take your game room decor ideas to the next level when you explore our luxury collections online today!